Now that summer has finally drawn to a close, The English Bed Company has decided to mark the start of the winter months by introducing a fantastic range of Storage Drawer Beds, along with an update to our fabric range! Our new Storage beds are the perfect way to accompany all of your winter goodies, such as your blankets, throws, cushions and perhaps a hot water bottle or two and are now available in a variety of different fabrics and leathers for you to browse through.
We currently have 5 different storage beds to choose from, each one defined by its beautifully handmade headboard and available to buy in over 50 different fabrics to suit your needs. Storage beds are a great way to add extra storage to your bedroom, and can be a great place to store extra blankets and winter ware come the summer months!
Each one of our Storage Drawer Beds consists of a handmade headboard that is large and characteristic, built using a solid hardwood frame. The storage section of the bed consists of a large divan that is then covered using a valence that has been produced in the same fabric as the headboard.
Our Lloyd two Drawer Storage Bed (Pictured on the right) is one of our most popular beds. A sophisticated bed with a large buttoned headboard that makes a real statement piece in any room that it encounters. Shown here in our new Porto 42 French Grey and two storage drawers, this is a very practical and stylish way of adding storage and practicality to your bedroom.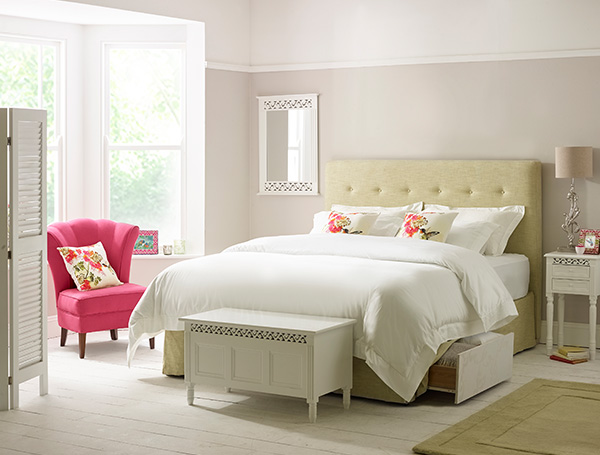 If you would like any more information on our range of upholstered beds, storage drawer beds or would like some information on our huge range of fabrics then please feel free to ring our helpful and friendly sales team who are experts in their field! Our helpful team can advice you on the best fabrics to suite our needs and help you to choose the perfect bed!