Although there are many discounted and cheap bed options available on the market today, many people still appreciate a real handmade bed, and the benefits that it can provide over cheaper alternatives. The average sleep duration is roughly 8 hours per day, meaning you spend one third of your life sleeping, and we can all appreciate what a good night's sleep can do for our well-being. Not only does a handmade bed contribute to your well-being with its sturdy and well-built frame, but it also offers a better return on your investment than cheaper alternatives, as our frames have been built to last for years to come.
Handmade in our Northwest Factory, each one of our beds is designed and built by The English Bed Company using real hardwood frames. Our workshop consists of carpenters and upholsterers with years of experience in the industry.
All of our handmade beds can be ordered in a variety of different fabrics, ranging from our House collection to our British Velvets and Wools, which are supplied locally from Yorkshire Mills. Specialising in upholstered beds you can choose from a wide range of designs.
With an extensive range of fabrics to choose from, you are certain to find a colour, design or pattern to suit your needs. However, if you can't seem to find a fabric that suits your needs or matches the colour scheme you are trying to achieve, then why not take advantage of our bespoke design service?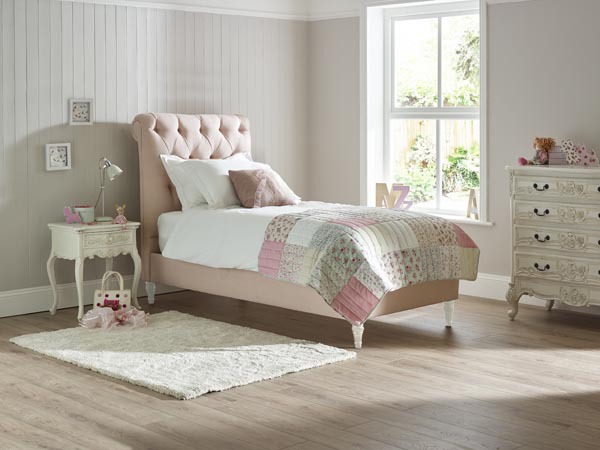 As all of our beds are handmade, this gives us the ability to make bespoke design changes to suit your individual requirements. If you have fallen in love with a fantastic fabric on your travels, or perhaps you require your bed to fit in to an awkward space then we can make adjustments to your new handmade bed, making it perfect for your needs.
We have a huge range of handmade bed designs available, and are continuously expanding our range year on year and have recently added the ability for you to manufacture your new handmade bed with built in storage, including a gas lift option or our brand new 2 or 4 divan base option (coming very soon). All of our beds have been designed with comfort and style in mind, as well as having a variety of customisable options available from different feet options, to studding and headboard alterations. We also offer a variety of sizes for our customers to choose from, from our single beds to our huge emperor size beds, perfect for really sprawling out on.